Is EVERYONE having a baby? It seems like this spring has been a big baby season, 2 baby showers down, 2 more to go. In the middle of every other hectic thing going on I have not had a second to go and shop. Also, I don't have a huge 'gift budget' with both my kiddos birthdays coming up.
What's a girl to do? Get my craft on!
I love making paper garland (as you can see from
here
and
here
). There may be other tutorials out there, but I like to machine sew my garland and I looked for a tutorial months ago when I started making them and couldn't find one, so here you go:
1. Punch or cut out your shapes. I use an EK Success 2" scallop punch, but you can do this with any shape you like. usually work with my ribbon on the roll when doing garland, but for this project the only blue I had was already in a tangled mess.
2. Make a loop and put under your presser foot centered in the middle of the 1st shape.
3.I use a straight stitch, and add my shapes one after another and let the machine do all the work of pulling the garland through as I go.
4. Finish with a second loop, also in the middle of the shape.
I always make a very large loop at the beginning and the end when making these as gifts. This way if the recipient has hooks they can loop it around but if they don't they can snip the loop and half and tie the ends up to whatever they have handy.
For the baby gifts I printed a bunch of pictures of the mom and baby (this particular shower is after the baby is born) and added pup dots to the back. Add the photos on every other scallop, DONE!
sorry the photos are a little dark, as you can see it's raining. AGAIN.
Quick and easy gift for anyone. You can make these for birthday, anniversary or baby gifts as well as Christmas tree decorations or really any occasion when I think about it.
If you end up making any I would LOVE to see what you come up with! Add your photos to my facebook page to share with us all or link to your blog post in a comment below.
I go this whole box of favor boxes ages ago at Staples in the clearence bin for a ridiculous low price, I can't even remember how cheap they were but I knew they would come in handy. I folded up the garland and put one in each box, tied up some glitter ribbon and stamped out a baby sentiment to finish it off.
I'll be linking this project up here: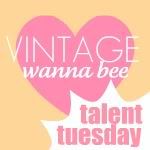 Come say hi!